Left Handed Electric Guitars Reviews
Had an issue with my order, however, Glarry's customer service went above and beyond to make this right for me. I am very impressed and will be back in the future! Thanks Lin for all your help and effort in fixing the issue.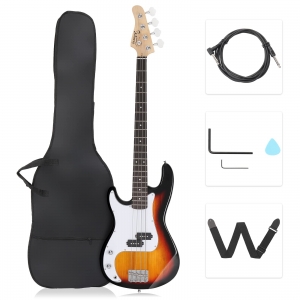 Your website is a joke! Ive never had this much hassle trying to spend my money! It would be nice if you answered your phone once in a while.or is that just for show?ive tried for 2 days to place an order,and im thinkibg you still havent got it right!
Service Team:
Sorry for the inconvenience caused to you! We appreciate your support for GLARRY. Our Customer - Service will contact with you soon. If you have other questions, please contact our customer support center [email protected], we will do everything we can to help you. Glarry
Guitar is one of the oldest music instruments that people have been playing and using for a long time. The guitar is used for all types of music: rock, sentimental, Indian and even contemporary music. The guitar is basically right-handed; however, let the left hand enjoy the beauty of the music with a guitar, and now there is a left hand electric guitar.
Basically, the cheap left hand electric guitar and the ordinary guitar are mirror images of the right-hand movie. This means that the guitar has a fingerboard on the right side, and the picking work must be done with the left hand. In addition, in order to ensure that these guitars are mirror images of right-handed guitars, their string finding is the opposite.
There are no basic rules to play with glarry left handed electric guitars. You have the right to design the right when you feel comfortable. You own way to play the guitar.