Digital Pianos Reviews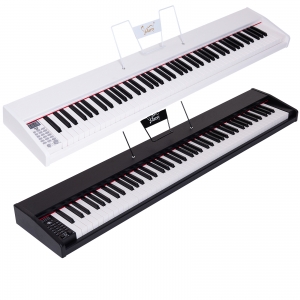 Arrived with its stand and its seat in time for Christmas. Niece was delighted with her gift and had her first piano lesson on Saturday 12/26/2020 (the day after Christmas).
In terms of aesthetics and acoustics, the piano is undoubtedly a beautiful musical instrument. Whether at home or on stage, perhaps nothing can truly beat the beauty and majesty of an acoustic piano and the respect it deserves. However, digital pianos have come a long way and are definitely worth considering, especially as technology advances and they become cheaper.

Now, it is more suitable than ever to use a digital piano as an alternative to an upright acoustic or grand piano. Purists will stick to their dead ends, so that nothing can match the real touch, weight or resistance of ivory keys or the roar and resonance sound of traditional piano hammers, but modern piano manufacturers will undoubtedly try their best to do so.

All in all, when it comes to the best digital piano, I suggest choosing glarry digital piano, which is very cost-effective.